Facebook's first decade
Apparently, I joined Facebook on 20 June 2007 according to a message they kindly sent me this week. Yes, it's 10 years this week since Facebook was born, so that means I have been a member for nearly 7 years. Facebook also sent me a cute little video where they have combined some of my photos, posts, comments and events to sum up the highlights of my 7 years with them. Clever stuff. I could get the huff about them invading my privacy but the video was intriguing, nostalgic and fun to watch.  Since then, many of my friends have invited me to watch their Facebook videos too. This simple action has reminded people that Facebook is a great way to communicate  and share stories – the basis of Facebook's beginnings. 
This made me reflect back to why I joined Facebook in the first place and how it has changed over those 7 years. I joined mostly due to peer pressure. My friends were joining Facebook and getting excited about it.  It wasn't about accumulating 'likes' or measuring 'reach', it was about being nosy and seeing what people were up to in a totally new way. It was really the first time that people could quickly share events, news and pictures on one platform and invite comments and opinions. It was fun and exciting. I was cautious at first and resisted putting my picture online but soon got talked out of that. Everyone else did it (also makes it easier to link to the right person) so I had to.
So, as a relatively early adopter but not a frequent user, I really discovered Facebook's relevance to me in early 2008. I was going on a big trip to Antarctica followed by South America and there was no way I could get away without putting pictures up on my Facebook page for friends to follow my adventures. I enjoyed taking the photos, sharing my southern ocean stories and getting the responses. The second time Facebook came into its own for me was the following year when I relocated to the USA. A big new adventure on my own and the only  way of keeping in touch was via email or expensive phone calls. Facebook saved the day again. I had instant support and ongoing news from my friends and family. I was able to share news and photos of my new life and it kept me connected.
When I returned to the UK, I already knew what everyone was up to and where the welcome back party was being held. I now use and appreciate Facebook for keeping in touch with friends who live all over the world and having instant access to their adventures.
So, a Facebook dabbler in 2007 and hooked by 2009. 
Facebook statistics
It hasn't been all plain sailing and I have fallen in and out of love with Facebook during our relationship (privacy issues, annoying applications you have to remove or edit,  introduction of the Timeline) but you cannot help but be impressed by the statistics.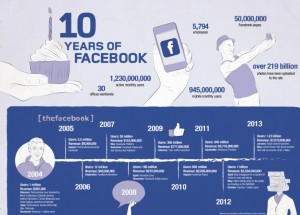 It's been a mixed couple of years for Facebook as the world's largest social media platform faced an array of challenges, from trying to establish how to monetise its mobile user base, to dealing with issues around inappropriate content, meanwhile fending off competition from the likes of upstart Snapchat and What'sApp.
Daily active Facebook users in December 2013 averaged 757 million, up by 22 per cent, while mobile users were up by 49 per cent, with an average of 556 million for the same month.
Monthly active users in December were 1.23 billion by the end of the year, up by 16 per cent, while mobile monthly users increased by 39 per cent to 945 million.
The full-year revenue for 2013 was $7.87bn, up by 55 per cent, while total year sales and marketing revenue was $997m, up from $896m in 2012.
Facebook changed the marketing rulebook
I can't think of any 'bricks and mortar' company that has had such exponential growth and success over 10 years. Facebook has changed the marketing rule book, revolutionising communications by providing a quick and easy way for people to share opinions  and because it is open for the world to see it forces brands to take notice. Smart brands have embraced this and engage in open conversations, learning about what their fans are interested in and adapting their content to keep consumers entertained.
My use of Facebook has changed over the 7 years I have been using it. I have broadened out my usage by having a 'business' (like) page for my consultancy and training work and keeping the personal page to engage with my friends. On the business side, I take Facebook quite seriously and find many of it's tools useful for tracking the impact of what I write and who 'likes' me. It's only one of the many social media tools that I use and there are plenty of competitors to Facebook eating away at it's market share  but I would never drop Facebook from my portfolio. 
Facebook is evolving as all mature businesses do and even though it is now asking us to pay for many of it's services, used correctly, they are still cost effective as part of any marketing campaign.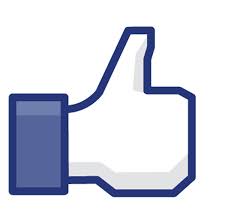 So Facebook, carry on, you still get the thumbs up from me.