Face-to-face networking
Social media tools, if used correctly, are undoubtedly a great way to network online. If you maximise the opportunity to put up a comprehensive and thoughtful profile about your business on Twitter, LinkedIn, Facebook, etc and use the tools in a way that enhances your business and attracts followers/connections/friends, you have made a very good start in networking online.
Visual social media tools such as Pinterest, YouTube, Vine and Instagram allow that network to come alive even more where people can see and hear your business in action. The growth of social media is heading this 'visual' way – people want to see, hear and interact with someone they might do business with. Podcasts, live webcasts and online training sessions are also in high growth as they are accessible, timely and cost effective and delivered by trusted experts you can connect with.
It struck me recently that this trend for more visual marketing and networking is nothing new. The tools might be new and the way we use them might be new, but there is nothing new in people wanting to see and hear someone rather than read about them. Human beings are very sociable animals and like nothing more than to chat to each other, discover new things and try and solve each others problems.
As a digital marketing consultant and trainer, I spend a lot of time keeping up to date with social media and collaboration tools and techniques and trying to understand how businesses can make best use of them. I can read about issues that organisations face with digital marketing and read the case studies. But the most effective way I gather information and test out what people are looking for is to get out there and talk to them. Yes, old fashioned face-to-face networking. Even Skype and FaceTime can't beat this one.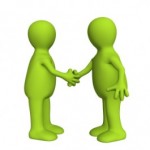 I have recently joined some great local networking groups and the Board of a local enterprise body which has opened up new relationships. It's exciting for me to contribute to these groups using my past experience and as a 'blow in' from the UK into Ireland, the groups are an invaluable source of understanding about how business really works here and the issues that people are facing.
I have preconceptions, experience and further thoughts about how social media and wider digital marketing can be used to enhance an organisation but until you start talking to someone and get down to the granular level of what drives their business and what they are trying to achieve, it's all theory. Local businesses have specific issues that need solving and which you will never find out about from their company website or industry reports.
Talk to people
A face-to-face chat for 10 minutes gives you more information about business issues, what is worrying people, their opinions and fears and also their successes and future plans. This is invaluable information. The networking groups I have joined are also cross sector so I can appreciate business and marketing issues across a number of industries, enabling me to tailor my approach.
and you have to do both but start with the real issues given to you face-to-face by a human and don't make assumptions about what they need or how you can help them. I wrote an article a few years ago about the power of face-to-face networking . I came across it again the other day in an 'administrative tidying up' moment. I thought it was timely that I found the article again as I have just reignited my own networking activity and upon re-reading it, I found that the top ten tips still hold true.
Top 10 networking tips
You can read the updated article here.  Networking article. We can hide behind online networking and we become very brave and chatty when talking to a screen. But real fear takes hold when we have to speak face-to-face to people we don't know . This article attempts to help you conquer these fears and make lasting and valuable connections. If you have any thoughts or views about networking or have stories about how it has worked for you, please tell me and I will share these on my website.
Lesley Moore