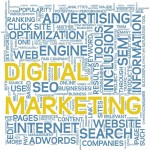 Since moving to the West of Ireland from London last year, I have been transforming my consultancy services to adapt them to the needs of local businesses. The opportunities here  in Westport are fewer than in Canary Wharf – only one hour away but a lifetime apart. Is that right? Well, actually, it is not so. Businesses may be smaller here but they have the same strategic and marketing needs of larger organisations in the UK.
I have worked for some of the largest global organisations who are risk averse and prefer to be followers not leaders in the digital world. They are not taking advantage of the business tools out there to maximise their company's profile and engage meaningfully with their clients. Their smaller, nimbler and more tech-savvy competitors are taking advantage of this and causing disruption in the legal and accountancy markets. Old business models are being torn up and new ones written and still people choose to ignore what's going on.
"If you want to succeed you should strike out on new paths, rather than travel the worn paths of accepted success." —John D. Rockefeller
Digital marketing, using social media, optimising your website to increase visibility and email marketing, is different from traditional marketing, but the two work great together. You still have to be good at applying tried and tested marketing principles and if you are not sure what they are, I can highly recommend this book by Mike Meldrum called "The Complete Marketeer: 60 essential concepts for marketing excellence".
Along with these great principles, digital marketing can quickly get you engaged more with your customers so that you can listen and understand what they need and value about your services.
Meanwhile, back in Ireland small businesses are very open to using digital media to connect them to the wider world and exploit business opportunities across the world. It may be a small island, but the thinking is big. But I do keep hearing from small businesses that digital marketing "is scary stuff" and the varying reputations of Facebook and Twitter make people even more scared. But these tools and others are powerful weapons in your marketing armory and cannot be ignored. They need to be embraced.
I will be posting top tips about using social media tools and giving you links to great blogs and books to read about digital marketing.
Here's a great blog to keep you going.
http://www.socialmediaexaminer.com/
In the New Year I will also be offering a series of free seminars about social media and digital marketing. The venue will be in Westport, but I hope to video them so I can make them available on my website.
So, no need to be scared anymore.