Growth of visual
The familiar proverb  "a picture paints a thousand words" refers to the idea that complex stories can be told with just a single image or visual or that an image may be more influential than hundreds of words. It looks like this has never been more true than in 2014. So, your New Year's resolution should be to take photos,  make videos and learn to draw infographics to engage your customers. Why?
I have spent some time over the Christmas period reviewing the digital marketing trends of 2013 and reading the predictions of influential marketeers to see what they think  2014 has in store.  Anything new? More of the same? This is digital marketing we are talking about so expect nothing less than exponential change.
Let's just take a step back into 2013 for a second. The past six months of 2013 brought with it two big pieces of news in the social media world; one tangible, and one symbolic. The first was in April when it was announced that Pinterest was officially eating into Facebook's share of social e-commerce traffic. The second was in November, when Snapchat famously rejected Facebook's $3 billion acquisition offer.
Both pieces of news were bad news for Facebook. And that's because Pinterest's rise and Snapchat's rebuff signifies the segmentation of the social media universe. The indications are  that a move to more visual resources, with Pinterest's multiple visual pinboards and Snapchat's instant photo sharing are taking centre stage and  the days of gathering "likes" and followers to boost your reputation are waning. It's also time to start paying to get noticed.
Expect to pay
Facebook will still be very much with us in 2014 but it's changing.  The Global Social Media Impact Study, which was funded by the European Union, observed 16- to 18-year-olds in eight countries for 15 months and found that Facebook use was in freefall. Instead, young people are turning to simpler services like Twitter, Instagram, Snapchat and WhatsApp which Professor Miller conceded were "no match" for Facebook in terms of functionality.
Facebook is now being used by the parents of these young adults and older people generally. Maybe this explains why Facebook is really pushing cost-per-click advertising and boosting of posts. The organic reach of posts has plummeted to less than 2% (it used to be about 16%) so using Facebook as a marketing tool will now start to cost real money.  But everyone else is doing this too with Twitter 'paid for' advertising, cost per view on Youtube and cost per click on LinkedIn. Budgeting appropriately for your social media activities will be critical in the future.
Learn to love Google+
The growth in 2014 will come from other services, especially Google+.  It is becoming more and more important as Google is trying to connect all aspects of your online presence and become a hub for your online activity.  It has 300 million users and is essential for search. You have to be here in 2014. Oh, and Google also owns Youtube which is growing rapidly as visual become more important.
To sum all this up, of course, I have an infographic for you by courtesy of Boot Camp Digital.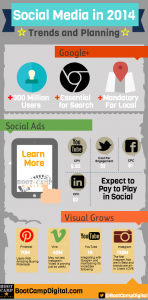 It's the visual trend that stands out for me. Visual social content is now a serious contender in social media marketing due to the convergence of a few factors:
rapid penetration of smart phones and tablets
decreased cost of data that makes high definition uploads cost-effective
the emergence of the tools mentioned about, i.e. Pinterest, Vine and Instragram and YouTube
But it is also about human nature:
websites with strong imagery are easier to digest that text heavy pages
most people retain 95% of the message in a video (think of how many times you have watched a YouTube video to learn how to do something simple)
96% of consumers click links after watching a video and 94% are likely to buy product after watching online video
 Infographics – i.e. any graphical representation of data and information – is much easier to digest and understand than a wordy explanation. It captures people's attention much faster
So, a major trend to observe in digital marketing for 2014 is the power of the visualisation of information. Luckily, I got a camera with a video function for Christmas so expect more visual content from this website in the coming months.
I will be discussing more key trends for digital marketing over the coming weeks. Keep checking back.
Lesley